The pictures in the photo section are some of the swimmers we have met and gotten to know through our officiating at the NCAA-Olympic Level
The following is a brief summary of what it takes to Officiate at the NCAA-Olympic Level.
1. Fall-we officiate at the High School level in Sioux City, Iowa. We start planning our next officiating assignment which next year will be in Austin Texas.
2. We are both family orientated and have kids to raise and a full time teaching job that has to be a priority.
3. Late fall-By now we have our room reservation, and car rented, we are constantly looking for the lowest air fare that we can get-so this may take some time.
4. Our own boys swimming season begins-since the six years that we have coached together, we have compiled an 82-5 record in dual meets and either won or been in the top two of most of our championships meets.
5. More later on how we get to where our hobby takes us. By the way we pay our own way, 100%, so far no corporate sponsors.

Our fututre plans are to get our college officiating certificates and become qualified to officiate college meet and hopefully someday we will be at the big show, THE OLYMPICS. It is good to dream and I know if we keep at it and we can get to know the right people, "We will reach our goal.
Next spring we will be head timers at the 2002 NCAA Womens Swimming and Diving Champioships in Austin, Texas.

Don and I have made the decision to resign from coaching and effective after the 2001-2002 season. Don will have coached for 37 years and I will have 36 years, and we both feel that we have been good for the sport and the sport has been good for us. The time in our lives has come to get involved in other areas of the sport of swimming, officiating on the college, University and International levels. Who knows maybe someday we will be back, but for now this will be the path we plan to take. WISH US GOOD LUCK IN OUR LAST SEASON!!!!!
Send an e-mail to Mickey or Don at ncaaolympichobby@yahoo.com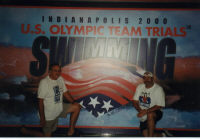 Indianapolis-2000 Olympic Trials




E-mail Don or Mickey at ncaaolympichobby@yahoo.com